Next Event - Brands Hatch - November 4/5, 2023
Welcome to the British Truck Racing Championship
THE TRUCK SHOWS WITH A DIFFERENCE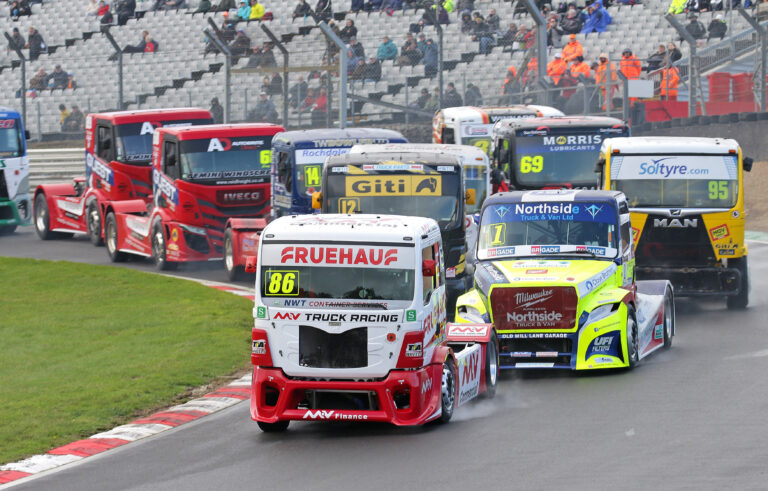 Blog
The British Truck Racing Championship is set to return to mainland Europe for the first
Read More »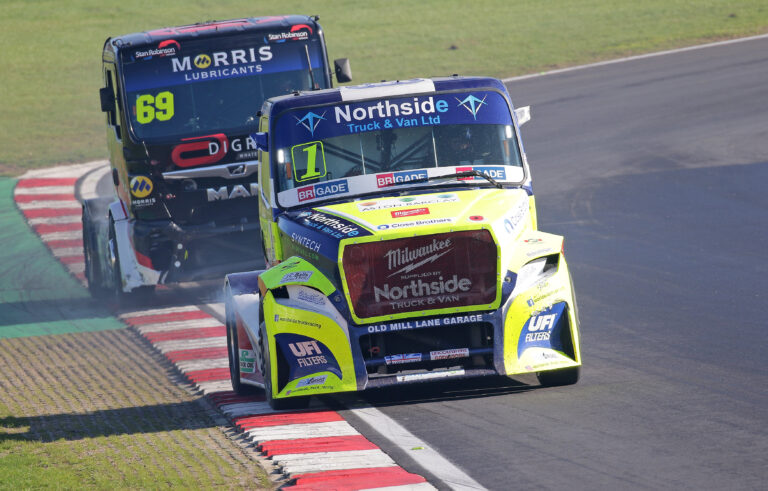 Blog
The British Truck Racing Championship closed out its 2023 season in spectacular fashion at Brands
Read More »
Blog
The British Truck Racing Championship will culminate at Brands Hatch this weekend (November 4/5) with
Read More »
The British Truck Racing Championship is one of the biggest motorsport categories in the UK, with machines weighing in at more than five tonnes and producing in excess of 1000bhp – it is a championship like no other.
Taking centre stage at some of the most famous circuits in the UK, spectators are guaranteed edge-of-the-seat entertainment over the course of each season; with capacity grids going wheel-to-wheel at seven events and a total of 35 races. 
Promoted by Truck Sport UK and running under the banner of the British Automobile Racing Club, the BTRC represents some of the biggest manufacturers from around the world.
More often than not there is fun for all the family too at all BTRC race meetings with a host of exhibits and attractions featuring trackside whilst the 'big rigs' do their thing.
Next Event - Brands Hatch - November 4/5, 2023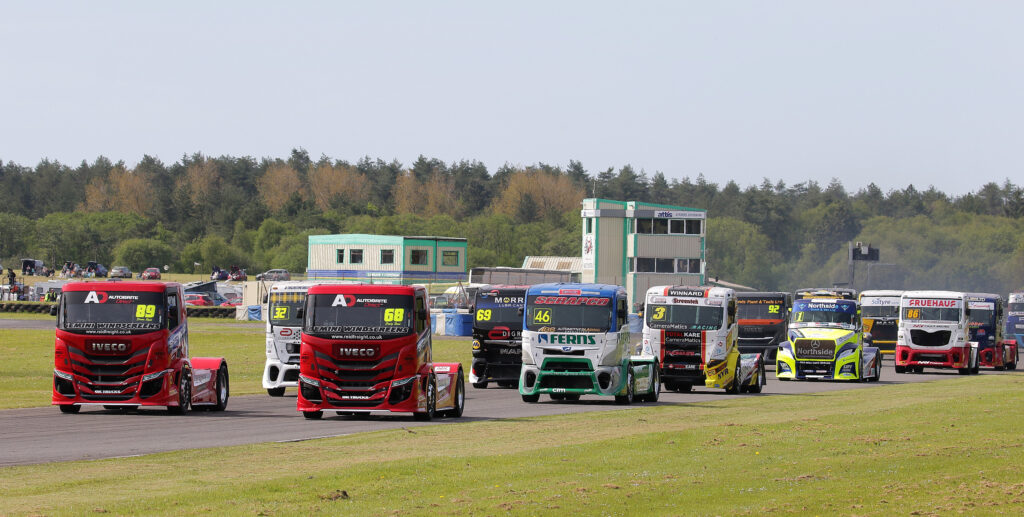 BRANDS HATCH: NOVEMBER 4/5 - ROUNDS 31-35
The British Truck Racing Championship concludes its 2023 season at the venue where it all started back in April, Brands Hatch. With the destiny of both the Division 1 and Division 2 titles still very much up for grabs, the Kent venue is poised to host five unmissable contests on the Indy circuit. 

THE TRUCK SHOWS WITH A DIFFERENCE
If you've got a passion for all things trucking then Convoy Truck Events are for you! Organised and delivered by Truck Sport UK; Convoy Cymru at Pembrey, Convoy on the Plain at Thruxton and Convoy in the Park at Donington Park delivers a weekend festival of all things trucks. Whilst the BTRC takes centre stage on-track, off it sees show trucks, live music, family fun entertainment, live action arenas and much more keep spectators entertained. Boasting media partnerships with DVV and Commercial Motor; all three Convoy Truck Shows are supported by Truck & Driver, the UK's biggest and best selling monthly magazine which is written by professional drivers for drivers.
2023 DRIVERS NAME & TRUCK MAKE
TOTAL POINTS SCORED
FINAL BTRC STANDING
DIVISION ONE

RYAN SMITH / DAIMLER

391

1

STUART OLIVER / VOLVO

359

2

DAVID JENKINS / MAN

354

3

BRADLEY SMITH / MAN

295

4

STEVEN POWELL / MAN

284

5

SIMON REID / IVECO

282

6

CRAIG REID / IVECO

241

7

MICHAEL OLIVER / MAN

237

8

JOHN BOWLER / MAN

211

9

RICHARD COLLETT / MAN

200

10

TOM O'ROURKE / MAN

158

11

SIMON FAULKNER / IVECO

121

12

JOCK BORTHWICK / MAN

116

13

NEIL YATES / DAF

65

14

SIMON COLE / MAN

14

15

DIVISION TWO

ADAM BINT / VOLVO

412

1

PAUL RIVETT / MAN

411

2

JOHN POWELL / DAF

387

3

CRAIG EVANS / MAN

358

4

JIM BENNETT / MAN

316

5

SIMON COLE / MAN

127

6

NEIL YATES / DAF

32

7